Ask About About Our Design Services
Login
Log in if you have an account
Register
Having an account with us will allow you to check out faster in the future, store multiple addresses, view and track your orders in your account, and more.
Create an account
The History of Mid-Century Modern Design
18 Jan 2022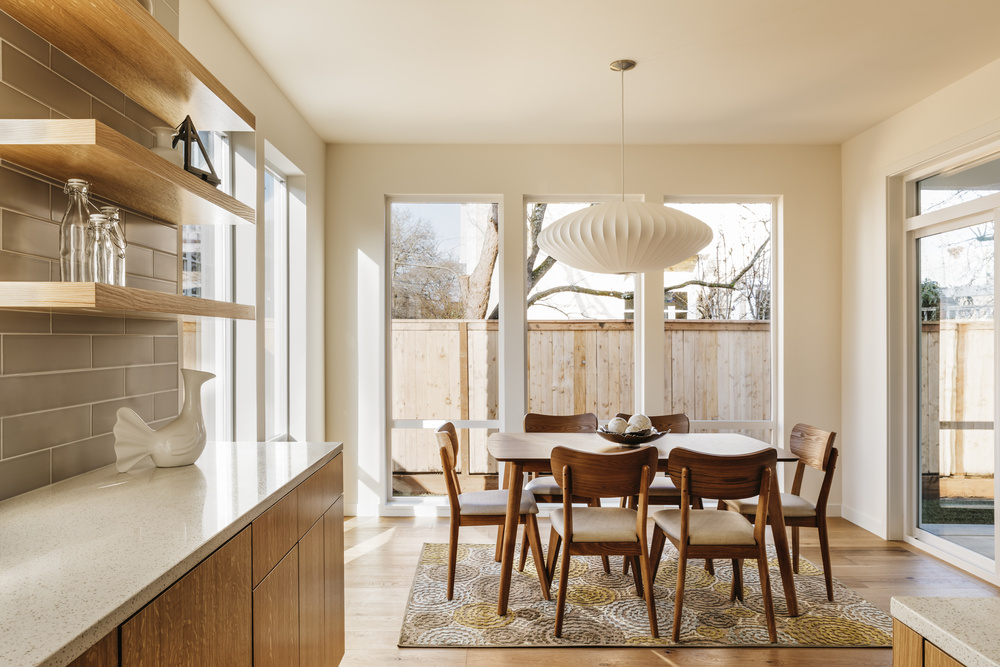 We all know that style is cyclical; well, so is interior design. Beginning in 2015, mid-century modern style began its comeback. The skinny table legs and eclectic patterns of our childhoods have found new life in the apartments of today's young adults. In this blog, we'll explain exactly what goes into mid-century modern style, and how you can achieve it in your home.
What is Mid-Century Modern?
When interior designers talk about mid-century modern pieces, they're referring to the middle of the 20th century. If you want to be specific, this era begins right after World War II and extends into the late 60s. During this time, suburbs grew exponentially; young families moved from the cities and began to decorate their new-construction homes. With more windows, larger family rooms, and new efficiencies, mid-century modern homes required their own futuristic aesthetic.
Here are a few traits of mid-century modern interior design:
New homes were small during this era. Therefore, furniture had to be useful and efficient. This resulted in a rise of understated, unfussy pieces.
Multipurpose furniture grew in popularity – think stacking or nesting side tables.
Organic forms combined with innovative materials.
Scandinavian design also experienced a boom during this time, which is probably why these two design languages are so similar. How can you tell them apart? Mid-century modern designs favor a darker palette, while Scandi rooms focus on brighter pieces.
What is Considered Mid-Century?
If you're wondering whether a piece is truly representative of mid-century modern design, there are a few traits you should look for. The items should be functional, first and foremost. Next, they should have clean lines and exude simplicity: no ornate filigrees, details, or cluttered components. If a piece is authentically mid-century, it will probably be made of wood – specifically teak. You'll also run across tables, chairs, and desks made of oak or rosewood.  
As mentioned above, designers of this period played with form and materials as they rebelled against previous standards. Many pieces combine metal, vinyl, glass, and wood textures. Don't be surprised if your search for a mid-century coffee table leads you to playful, curved, oblong centerpieces for your living room.
Realizing Your Creative Vision
If you want to make your home a mid-century modern haven, you've picked a great time to do so. Here are our expert tips for decorating with vintage or reproduction furniture, accent pieces, and era staples.
Keep it minimal. Remember that this period is all about avoiding clutter and inefficiency. Put away your knick-knacks, clear out any extras, and enjoy your minimal home.
Start small. Don't be tempted to dive headfirst into your vintage aesthetic! Determine which changes will be most impactful – for example, a credenza or media unit can elevate your room's design more than a random side table. Limiting the number of period pieces in your home can keep your house from looking like a time capsule.
Find matching, high-quality wooden pieces. You can't have a mid-century modern home without some warm wooden furniture! Let these pieces shine and remove any other woods that clash with them.
Know your color palette. Designers of yore liked to contrast warm colors with complementary tones. If you look up mid-century rooms, you'll see yellows, reds, and oranges, along with teals and rich greens. If this is a bit too bold for you, feel free to embrace a neutral palette.
Look for tapered legs and low profiles. These two features are hallmarks of mid-century furniture. Sometimes you can achieve a vintage look by simply replacing the legs on your existing sofa.
Where to Buy Mid-Century Modern Furniture
While many retailers carry mid-century-inspired pieces, it can be challenging to find quality items that will last for decades to come. Prevalent Projects stocks beautiful pieces that stand the test of time.
If you are looking to style your home and aren't sure where to start, consider availing yourself of our interior design services. With decades of experience, founders Julia and Floyd Albee can tailor the charms of mid-century style to fit your modern home. Contact us to learn more.